Conducting an SEO audit will reveal your problems and gaps. Then you can fix them and create a perfect road map to crush your competitors.
If you want to drive more organic traffic to your website and beat your competitors to attract new customers, you need to understand where you stand in the search engine results and what you need to improve.
An in-depth action can cost several hundred or even dollars when you have an agent to do it.
However, today we'll show you how to do a quick check, so you can start improving your online presence straight away without spending a dime.
Let's go!
What is Google Local SEO?
Local SEO refers to the process of 'optimizing' your online presence to attract more business from relevant local searches. These searches take place on Google and other search engines.
That last point is an important one—this isn't just about Google.
People search for local businesses using various search engines… Google, Bing, Yelp, Apple Maps, etc.
However, Google has an estimated ~87% market share (in the US, at least). Which means that most people are using Google to search for local businesses.
For that reason, this guide will be roughly 80% focussed on optimizing your local presence on Google.
So let's talk about Google…
Google's Local 'Snack Pack' VS. Organic Results
Writing blog posts is hard… I need a coffee.
Here are the search results for "coffee shop near me"…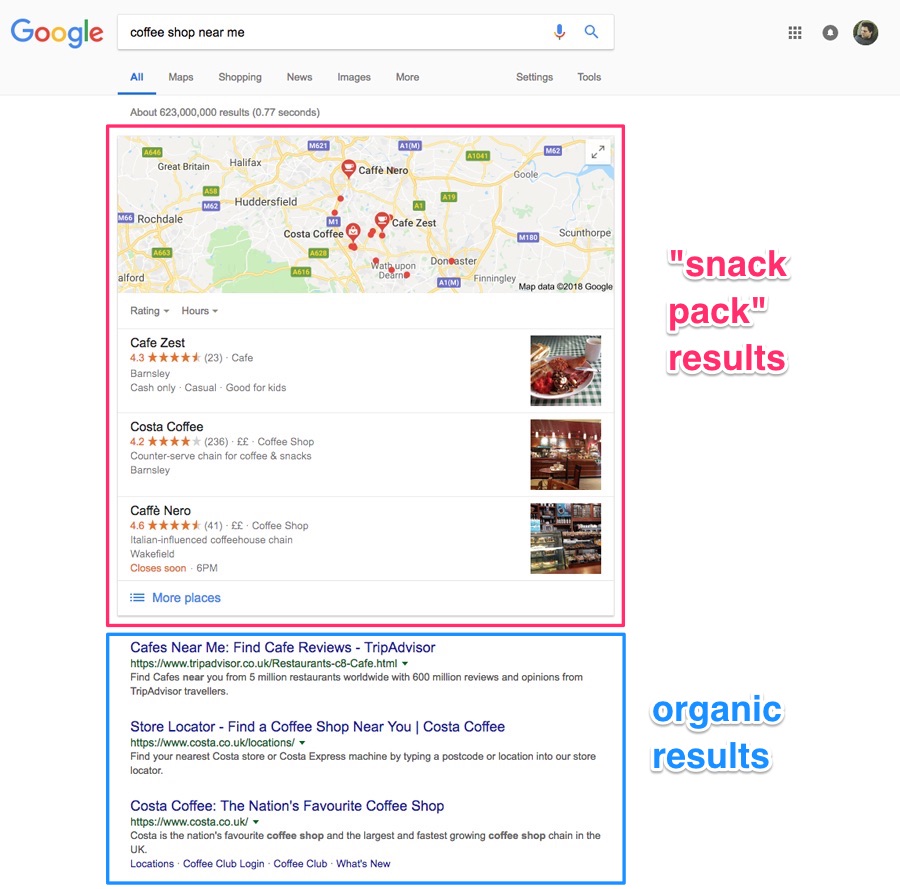 Notice that there are two distinct sets of search results:
The "snack pack" results"
The "regular" organic results
I'm sure most of you are familiar with regular ol' Google search results.
But what the heck are "snack pack" results?
Google Snack Pack is a boxed area that appears on the first results page when a local online search is made through Google's search engine. The Snack Pack box displays the top 3 local business listings most relevant to the search enquiry. (Source)
According to one study, 33% of clicks go to the local "snack pack" results, with 40% going to the regular organic results.
Key takeaway: it pays to rank in both, which is where local SEO comes in.QUICK REMINDER
Don't forget that local Google searches are performed from many different devices and apps.
Here's the same "coffee shop near me" search on mobile, in the Google Maps app, and in Google Assistant…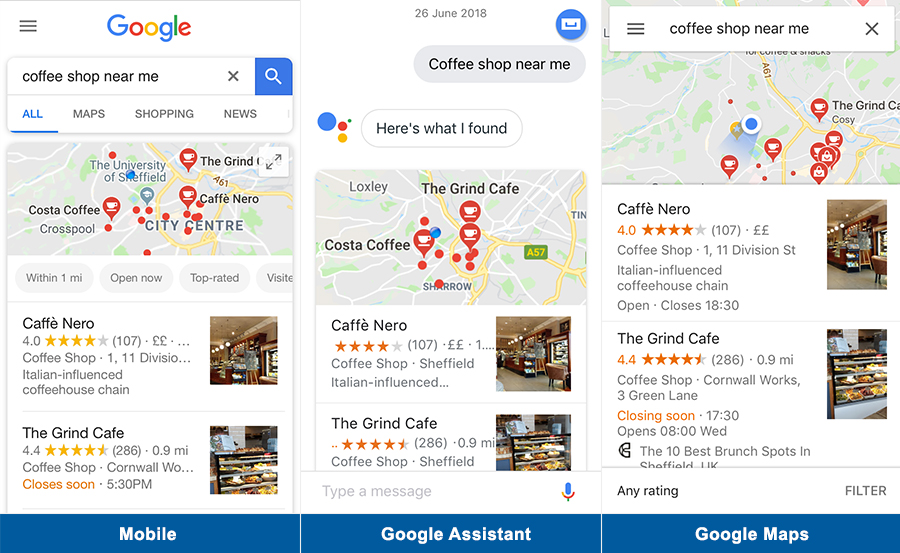 I'll show you the secret of optimizing for all three of these apps (and any other Google apps) in one fell swoop later on in the guide. ?
First things first…
You need to get the basics right.
That means making sure that your website is optimized for mobile visitors, as 61% of mobile searchers are more likely to contact a local business if they have a mobile-friendly site.
Use Google's Mobile-Friendly Test tool to check this.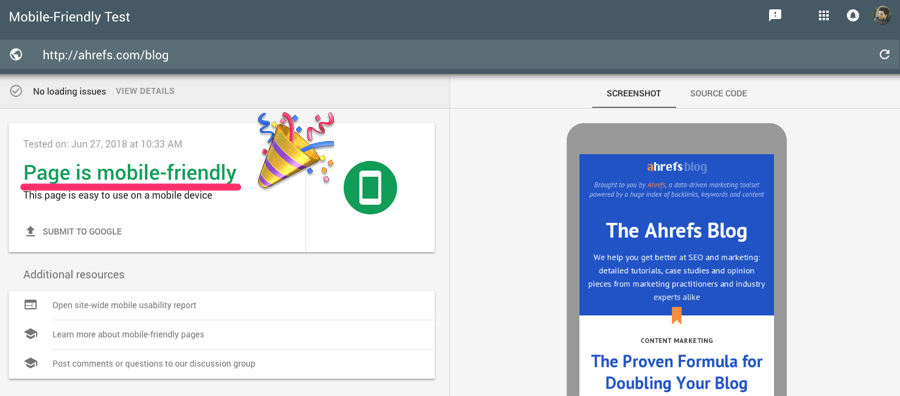 Performing a mobile-friendly test for the Ahrefs Blog. It passed.
You also need to make sure that your website doesn't look like total garbage.
Case in point: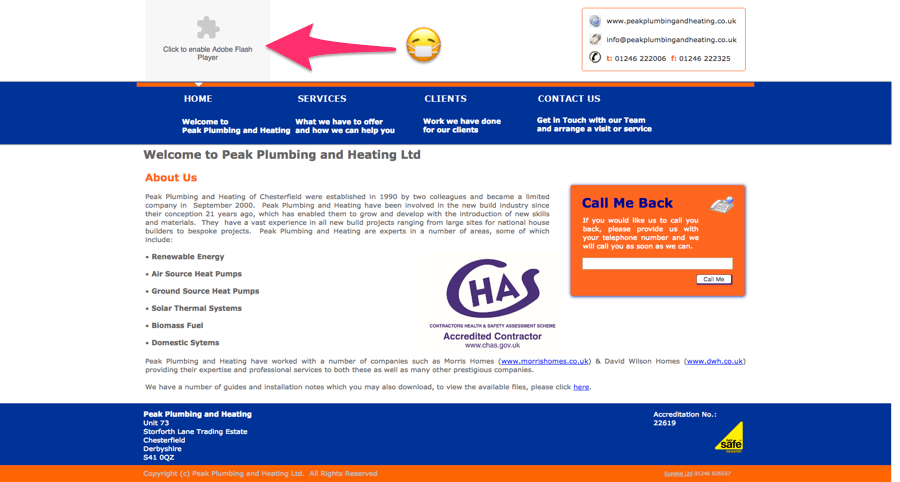 It doesn't matter where you rank, nobody is going to make contact when you have a website this ugly.
Lastly, I recommend making a note of your businesses current and past name(s), address(es), phone number(s), and website(s) in this spreadsheet.

This will come in handy later.
Let's get started!
✅ Google My Business Listing Audit
Do you have a Google My Business listing? There are tons of businesses out there who have yet to claim their Google listing.
Google My Business is crucial to your online success and will have a major influence on your overall online visibility.
If you haven't claimed your listing yet, please do it immediately and precisely.
Look at the example
Here is what you need to look out for
✅ Business Name
Using the same business name that you would use in real life and is on any of your legal documentation or business cards.
Do not add any additional keywords in the hope you will rank higher as it is against Google's policy and you may get suspended.
✅ Address and Phone Number
You have to make sure your address and phone number accurate. If you get this wrong, you'll be in a world of pain, and mislead Google and your customers too.
✅ Business Categories
Ensure you've selected the right primary category for your business as it will influence your rankings enormously.
This can sometimes be a tough choice such as dentists, cosmetic dentists, and dental clinics are three different categories. Therefore, you need to choose wisely.
Once you're done with your fundamental category, you can add secondary that applies to your business.
✅ Business Hours
People also look at your business hours. Hence don't cheat and pretend you're open all the time.
✅ Reviews
This factor is a major influence when it comes to rankings. It could make the difference between your competitors.
How many reviews do you have? Do you receive good feedback? How often do you respond to all of them?
You can encourage customers to leave you more reviews with Google Review Link Generator.
The tool will generate a link that will automatically trigger a Google My business review pop up and ease the review process.
✅ Link to Your Website
The step is also necessary. When the customers see your Google Business and find it interesting, you need to lead them to your own website in order to take an action right at your site.
This way drive more organic traffic to your website as well.
✅ FAQs
Have you added frequently asked questions to your profile?
The FAQ will help people make informed decisions about your business and people also use the FAQ option to ask about your services.
This will generate lead so you should not ignore it.
If you don't know what to write here, there is a tool that might help. It is answerthepublic.com.
You simply put your keywords and the website will spit out a list of common questions you can use.
✅ Photos
Photos are probably the best way of showcasing your business and capturing attention. Therefore, you should add some photos regularly and also videos or 360 panoramic views for better engagement.
✅ Posts
Posts can be used to provide an update about your business, promoting a product, a service or an event.
They increase your listing prominence in search results, especially on mobile and help in answering FAQs.
Although Google posts expire every 7 days, it's a great feature not many businesses are using so make the most of it.
✅ Business Description
It's time to start typing to tell customers a bit more about your business in up to 750 characters.
Google My Business has more options available, some of them in industry-specific. However, if you can nail these down for now, you'll have a solid profile.
✅ Citations Audit
If you don't know what a citation is, it is a mention of your business in major directories and social media platforms which generally includes business name, address, phone number, etc.
For example, yell.com, a major directory in the UK.
Having your business listed in these is the foundation of any local SEO strategy and is important for two reasons
1️⃣ These directories very often rank at the top of search engine results for local searches which may include your business and drive traffic to your site.
2️⃣ They help create trust and legitimacy with Google who will be discovering your business across all these platforms.
To establish trust, your business information needs to be accurate and consistent everywhere your business is mentioned.
You could check the consistency and accuracy of your business information across the web manually, but to be honest with you, it is a very tedious exercise and can still lead to errors.
Instead, you can use a tool to do the legwork for you. We recommend Bright Local
You can create a free account for 14 days without using a credit card. You'll have enough time to check if your business is mentioned in all the right places and if there are any errors, you can download a full citation report.
Additionally, you have access to tons of extra information once you've set up your profile.
✅ Website Responsive
The next thing we're going to check is if your website is responsive.
This step is just ensuring that your website works on all types of devices and more specifically on mobile phones.
When it comes to local search, most of your visitors will come across your site through a mobile phone. As a result, your website is not compatible with the mobile version, your business is really going to suffer.
To quickly check the responsive, you can install Window Resizer, a Google extension
Then you simulate your website view on various devices available.
✅ Homepage Audit
After that, we're going to look at the homepage.
The homepage of any website is the most important page and therefore it deserves to be analyzed separately.
There are many things to take into consideration.
To really maximize your SEO opportunities, these are what you should check.
Is the title tag optimized and includes the keywords?
Have you added a Meta Description to your page compelling enough so that people are willing to click?
Does a main title or H1 which stands for header include target keywords?
Is there an obvious call to action on the page such as a phone number?
Is the call to action visible on the mobile version without scrolling down?
Is there enough content on your page?
Are you linking to important subpages from your homepage which you'd like visitors to click and Google to discover?
Do all your images have an alt tag?
Do you mention your location and embed a Google map so visitors can check directions?
Does your page include your name address and phone number which is consistent with your Google My Business listing?
Once you've completed all of the above, it's time to analyze the rest of your pages.
✅ Webpage Audit
We'll use a tool that is going to speed up the process enormously.
Go to Ubersuggest, and add your domain name in the search box.
This will initially give you an overview of your website which includes the number of organic keywords you're ranking for, the estimated organic traffic and the number of links pointing to your site.
On the left-hand side, choose Site Audit at the bottom of the menu and click on search to trigger an automatic scan of your site which should take up to 3 minutes.
Once completed, you should see a breakdown of errors, warnings, and recommendations.
Click on the Health Check to have the full list. In there, you'll be able to uncover issues with your pages such as duplicate meta title, low word count and missing headers across your site and fix them.
If you are unfamiliar with the errors highlighted, just click on the what is this and how do I fix it.
✅ Ranking Audit
Now you need to look at how well your business is ranking in Google.
When it comes to local search, your business is likely to show in two distinctive areas within Google.
The first one is in Google Maps with your Google My Business listing which also includes the map pack.
The second one is what we call the more traditional results which sit below the map pack where your business website will be listed.
It is important to know how well your business ranks and for what keywords, so you can monitor if any of the improvements that you have implemented.
Head back to Ubersuggest and re-enter your domain.
On the main screen, click on the organic keywords tab.
This will show you all the keywords your website is ranking for in the traditional results.
You can even export the results in Excel, save the data and recheck a few weeks later for comparing rankings and check if you have gained any positions.
If you are not ranking for any keywords between position 1 and 10, it means you're not on the first page of Google for any keywords. Hence, there is a lot of work to do.
Or you can increase your Google Ranking with 5 ways
✅ External Links Audit
External links pointing to your site are one of the most necessary factors that will influence your online visibility.
The more quality links you have, the more relevant it will appear to Google who will reward you with higher rankings.
But how strong are your external links?
Go back to Ubersuggest. On the main screen, check what your domain score is.
The score is calculated on the basis of external links pointing to your site.
The lower the score, the weaker the site.
You can run the same scan for your competitors' sites and look at their domain scores.
If your score is lower than theirs is because they have more valuable links pointing to their site than you do.
It means that you will try to get more sites to link to yours.
If you don't know where to start, you can spy on your competitors' links by clicking on their domain score.
Then you'll see all their external links. Just try to get the same links as they do.
In Short
Now, it's your turn. Download the SEO audit checklist and run through each item one by one.
When you complete the file, you'll see how well or badly you're doing just by looking at the overall color scheme and which part you need to address based on priority.
If you have any comments or questions, please leave a comment below!
See you in the next post ?